Superior Sense of Seclusion
This is the largest of the safari bungalows. The Kingfisher Suite is three times the size, featuring a king size bed and deluxe swags for the children.
An added bonus is a private dining space, for guests that want a more intimate evening dining experience away from Bamurru's Main Lodge.
The Suite shares the signature ceiling to floor mesh walls, to immerse in the natural surrounds with wildlife all around.
Designed to blend seamlessly with the surrounding environment, this spacious and contemporary sanctuary allows you to immerse yourself in the sights and sounds of the wilderness. With it's own private dining table overlooking the expansive view, you can request dining in your room.
The bathroom features twin basins and showers, with a décor of rustic chic timber and decorative corrugated iron walls, for character in tune with the environment.
Kingfisher Suite Inclusions
Kingfisher Suite
Inclusions
Spanning over 81 sqm, Kingfisher suite features an open-plan layout that effortlessly combines the indoors with the outdoors. Floor-to-ceiling mesh walls offer panoramic views of the ever-changing landscape, allowing you to observe the wildlife right from the comfort of your plush king-size bed or lounge area.
Optional Swag Beds (authentic Australian bedding, consisting of a rolled canvas with inbuilt mattress) can be provided to cater for children. Please request when booking.
Plush King Bed + Swag Bedding

Large Ensuite Bathroom

Undisturbed Views of Nature

Dining Table & Lounges to Relax
Plush King Bed +
Swag Bedding (optional)
Extra-Large Ensuite Bathroom
Private In-Room Dining and Lounge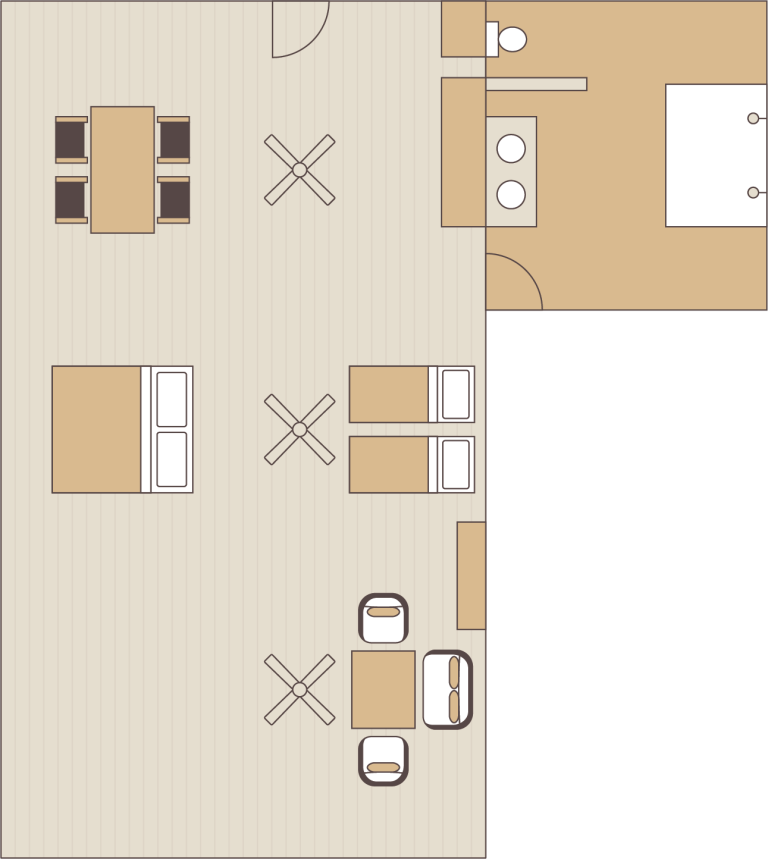 Kingfisher Suite
Rates & Seasonality
Reserve your ultimate fully hosted, fully guided escape to Bamurru Plains today
Daily Guided Safaris
Embark on airboat safaris, croc-spotting river cruises, sundowner safaris, guided wilderness walks and more.
The Bamurru Lodge
Meet other travellers and relax in between experiences for a drink, and hosted meals.
Swimming Pool
Refreshing saltwater wet-edge pool overlooking the floodplains, for shared use at the Bamurru Lodge.
Expert Field Guides
Learn from our knowledgeable and passionate team, discovering the property's unique flora and fauna.
Private Ensuite
Ensuite bathroom with rainfall shower & organic personal care items.
Fan-Cooled Room
Kingfisher Suite is fan-cooled, with floor to ceiling walls of mesh for optimum wildlife viewing and breezy comfort.
Hosted Meals
Three delicious meals a day, with a menu curated by the in-house Head Chef and team. Tailored to your dietary needs.
Open Bar
Alcoholic & non-alcoholic beverages and a selection of Australian wine, with a "our home is your home" approach.
Shoulder
September, October 2023 / March 2024
Low
September, October 2024 / March 2025
Peak
June, July and August 2024
A minimum two night booking applies.
Additional swag bedding for children 8-17 years can be arranged upon booking, at $525 per swag per night. One swag per safari bungalow only.
Daily Guided Safaris
Embark on airboat safaris, croc-spotting river cruises, sundowner safaris, guided wilderness walks and more.
The Bamurru Lodge
Meet other travellers and relax in between experiences
Saltwater Pool
Overlook at the floodplains in the refreshing pool at The Lodge
Expert Guides
Learn from our knowledgable and passionate team
Private Ensuite
Ensuite bathroom with rainfall shower & organic personal care items
Cool Rooms
All Bungalows have large ceiling fans and walls made from durable mesh for your comfort
Meals Provided
Three delicious meals a dat created by an on site chef. Tailored to your dietary needs
Open Bar
Alcoholic & non-alcoholic beverages and a selection of Australian wine
View more of our accommodation & inclusions